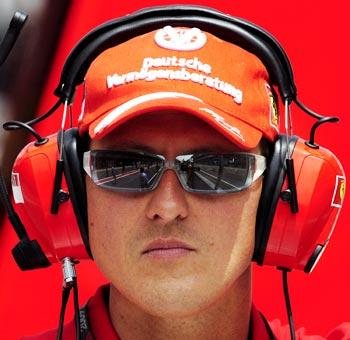 Seven-times world champion Michael Schumacher described his decision to call off his return to Formula One as "one of the toughest moments" of his career.
The German, still suffering from pain after a motorcycle accident earlier this year, refused to discuss returning to the sport in the future and said that danger is part of his personality.
"This is a very sad moment for myself," the German told a news conference on Wednesday, one day after announcing that he would not be stepping in for injured Ferrari driver Felipe Massa as planned.
"It's possibly one of the toughest moments I have faced in my career.
Schumacher, who suffered fractures around the head and neck in the accident in February, had been expected to make his return at the European Grand Prix in Valencia on August 23.
Ferrari have instead given the seat to experienced test driver Luca Badoer.
"We all know motorbikes have an element of danger but that is part of my nature, that is what I am. I jump out of planes, I ride motorbikes, I drive Formula One cars," said Schumacher, who retired in 2006.
"Now I am disappointed I did it because it has stopped me from doing what I wanted to do."
IN PAIN
Schumacher said that he found it easy to regain his fitness and that driving a Formula One car felt natural. But the pain began to appear during a private F1 day at Mugello last week.
"Getting into the car and driving the car was pretty natural," he said. "I didn't find any problems in adapting to the sport but I found the pain around the neck was pretty tough, especially over bumps.
"We did everything... possible but it didn't work out.
"We have prepared very seriously, done as much as we could from our side but we always said that I would do the job on condition I was ready for it and sadly I couldn't fulfil this.
"I've just made a very tough decision and that's all I'm thinking about right now. I don't feel like thinking too much about the future."
His doctor Johannes Peil added: "I think it's possible for him to do a lot of sports.
"Further healing and training and therapy will show how extensively how he can get his best condition back [along with] the possibility of driving a motorbike, cars and Formula One."