Arjun Halappa and Dhananjay Mahadik sounded the board as India beat Belgium 2-0 in the final Test to clinch the three-match hockey series 2-1 in Braxgata on Friday.
After losing the opener on Tuesday, India bounced back, winning the second Test 4-3. The visitors scored once in each half on Friday through Halappa (31st minute) and Mahadik (60th) to win the series.
The Indian midfield sparkled with swift rotations and overlaps which bewildered the Belgians.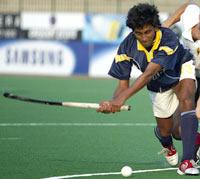 Gurbaj Singh, Sardar Singh, Mahadik and Prabodh Tirkey kept a steady flow of passes among themselves and frequently stepped up the pace to set up attackers Rajpal Singh, S V Sunil, Tushar Khandker and Shivendra Singh.
India made their intentions clear with onslaughts from the start of play as the forwards penetrated Belgium's danger zone repeatedly.
They were awarded their first penalty-corner in the fifth minute when the ball was carried in the circle, but goalkeeper Vincent foiled Sandeep Singh's flick.
India eventually got the better of the Red Lions with a display of well-manouevered skills and position interchanges.
They took the lead through a classic foray from the left flank where Khandker and Prabhjot moved in tandem at the baseline to set up Halappa, who tapped past the hopelessly unbalanced Vincent.
Belgium got two penalty-corners before the break but Vikram Pillay rushed out to abort the first one, while Adrian D'Souza gloved away the second.
The second half saw the Indians again in full steam as their midfield not only denied Belgium space but also built effective turnovers.
India scored their second goal in the 60th minute from a penalty-corner as Sandeep pushed the ball to Mahadik atop the circle. The 26-year-old Army man from Bangalore then unleashed an accurate low flick to the goalkeeper's right to ensure victory.
India later left for Barcelona to begin the third leg of their Europe tour with a three-Test series at Terassa against world No 4 team Spain.