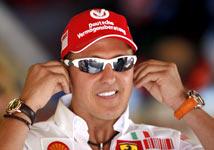 Michael Schumacher has been shedding the pounds as he prepares to come out of retirement to fill in for the injured Felipe Massa at Ferrari although a pain in the neck is a slight concern, he said on his website.
"I'm currently in the midst of my preparations for the upcoming race. I already lost three kilograms even if it is also important to me for to build up muscles," the seven times Formula One world champion said on www.michael-schumacher.de.
"So all in all, the practice is going pretty well. I only have to admit that my neck pinches a bit. We have to get a grip on that as my health is the priority -- that's the clear arrangement made with Ferrari and with my wife too."
The 40-year-old German is poised to return to the track at the European Grand Prix in Valencia on August 23 with Massa recovering from a fractured skull after being hit by a bouncing spring in qualifying for last month's Hungarian Grand Prix.