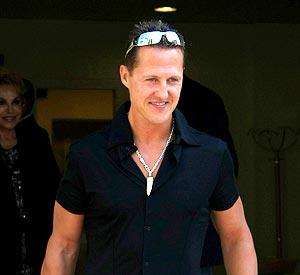 Ferrari vented their frustration at rivals Williams and Red Bull on Tuesday after the teams said they are opposed to Michael Schumacher testing injured Brazilian Felipe Massa's F60 car.
Seven-times world champion Schumacher, who retired in 2006, is set to fill in for Ferrari while Massa recovers.
Formula One regulations do not allow track testing during the season, although Ferrari had hoped other teams would allow an exception after Massa fractured his skull in an accident at the Hungarian Grand Prix last month.
"Guess who opposed the test with the F60?" read a statement on Ferrari's website.
"A team that hasn't won anything for years and yet didn't pass over the opportunity to demonstrate once more a lack of spirit of fair play."
Williams last won the constructors championship in 1997, when Canada's Jacques Villeneuve topped the driver's standings for them too.
Ferrari also hit back at Williams' and Red Bull's argument that Schumacher should be treated no differently than Spanish teen-ager Jaime Alguersuari, who was unable to track test his car before his F1 debut for Toro Rosso in Hungary.
"Just for the record, the Scuderia Ferrari had given its approval to let Alguersuari test, but it seems even in this instance someone decided to stick to the precise wording of the regulations," it said.
Seven-times world champion Schumacher completed 70 laps in a 2007 version Ferrari at Mugello near Florence last Friday.
Photograph: Reuters