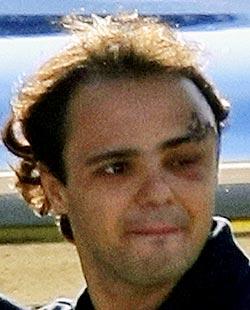 Injured Ferrari driver Felipe Massa left a Budapest hospital after nine days of treatment on Monday and said he hopes to make a swift return to Formula One.
The 28-year-old fracturing his skull in an accident during qualifying at last month's Hungarian Grand Prix.
Massa boarded a private jet home to Brazil on his own feet on Monday and doctors expect him to make a full recovery.
"I'm feeling much better now and I want to recover as soon as possible to get back behind the wheel of a Ferrari," Massa told the Italian Formula One team's website.
He said he does not remember the accident on July 25, in which he was hit just above his left eye by a bouncing spring from fellow Brazilian Rubens Barrichello's Brawn car.
"It is sort of a strange feeling," he said. "I know exactly what happened, that a spring came off Rubens' car and hit me on the helmet, but I didn't feel anything when it happened.
"They told me that I lost consciousness at the moment of the spring's impact on my helmet and I ran into the barriers, then I woke up in hospital two days later. I don't remember anything and that's why what the doctors did had to be explained to me.
"The last thing I remembered was when I was behind him [Barrichello] at the end of my fast lap in Q2 and then it's blank."
Massa, last year's championship runner-up, spent several days in an induced coma and on a respirator before being released from an intensive care unit last Wednesday.
Germany's seven-time Formula One world champion Michael Schumacher, who retired in 2006, is set to replace the Brazilian at Ferrari while he recovers.
Massa is confident his former team-mate will do a fine job.
"He knows how to win, he knows how to drive and he's great," he said. "It was the best choice, handing over the car to such a fantastic person."
No timetable has been given yet for Massa's return to Formula One.
Photograph: Reuters