Lewis Hamilton does not fancy racing in hot and humid conditions and the reigning Formula One world champion believes it would make sense to schedule the 2011 Indian Grand Prix in the winter.
Sweating profusely as he tried his hand at cricket along with locals, Hamilton asked, "Is it always so hot here? Unbelievable. I hope they hold the Grand Prix here in winter."
Later talking to reporters, Hamilton said it's always a challenge to race in regions where the weather is hot and sultry but at the same time, India deserved the Grand Prix simply because of the sports' huge fan following in New Delhi.
"We lose up to four kgs after a race even though I lost one and half in the last race at Hungary. The humidity here is an issue and it would pose a serious challenge to the drivers. But at the same time, this is my just second visit to India and I can see for myself how excited the people here are about Formula One," said the 24-year-old British driver.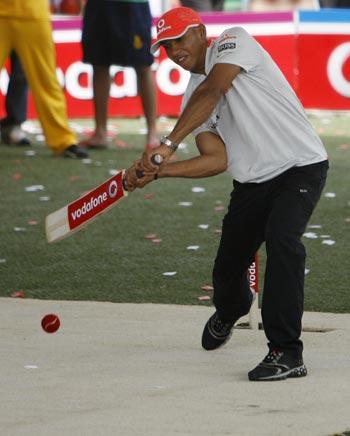 Hamilton, who was here on a promotional tour for Vodafone Essar, also spoke highly of the lone Indian Formula One team and said he was confident that buddy Adrian Sutil would soon score the outfit's maiden F1 points.
"I think so (that Force India will score their maiden points this season). They are a great team and have developed a good car that has good pace as they demonstrated in races and practices. I believe they have a big update due for the European Grand Prix (in Spain on August 23)," said Hamilton, the youngest world champion in the sports' history. 
"Adrian is a great friend of mine and we share an excellent relationship. I hope he gets some great result this season for he deserves it," said the McLaren driver.
Hamilton admitted Felipe Massa's near-fatal accident in Hungary underlined the fact that Formula One remained a dangerous sport but asserted that the game's stakeholders have done a good job as far as driver's safety was concerned. 
"My thoughts are with Felipe and his family. For me, after what I heard and saw, it's easy to be nervous. It reminded all how the sport still remains dangerous. 
"But I would say that the guys have done a fantastic job for so many years, inspite of these freakish incidents," he said. 
Even though the accident leaves him sad, Hamilton cannot wait to hit the track in Valencia this month where legendary Michael Schumacher will mark his Formula One return in the Ferrari car in Massa's absence. 
"To be on the same track with him is a huge thing and I'm so excited and looking forward to it," he gushed.
Hamilton had a fairytale season last year, something he could not replicate this season and the youngster blamed it on the car. 
"Coming from last year's world championship, we realised we did not have the car to push for win," he said. 
"Last year, we put everything in the car when some other teams were working on this year's car. We were six months behind them and now, after six months, we are back in front again. What we required was a balance between last year and this year's cars," said Hamilton, who won his maiden race of the season in Hungary last month.
"The last two races have been good and I told the team other day that if we keep pushing, there is no reason why we cannot win more races," he said. 
Lying eighth with 19 points in the driver's championship table, Hamilton virtually conceded that his world championship defence was virtually over with Brawn driver Jenson Button topping the chart with 70 points.
"He needs just 2.5 points while it's much, much tougher for me," Hamilton said. 
He hoped that BMW's decision to pull out of Formula One next year would not impact the sport much.