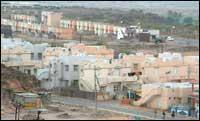 Bhachau will flourish again. My Kutch will bloom soon. But my life will never be the same again," says Abdul Razzaq, a textile merchant, philosophically.
He is sitting in his brand new shop in the rebuilt Main Bazaar of Bhachau town, located about 300 km northwest of Baroda. Bhachau was completely destroyed when the 6.9 Richter earthquake struck Gujarat, and especially Kutch, in the western region of the state, five years ago to this day, on January 26, 2001.
The ferocious earthquake, with its epicenter 20 km northeast of Bhuj, killed 12,221 people in Kutch alone. And 13,805 people, totally, across Gujarat lost their lives on that cheerless Republic Day as buildings and homes crumbled to the ground at about 9 am. The injured numbered close to 100,000.
The Gujarat earthquake coverage
Deaths and injuries brought immense upheaval to these parts and uprooted the lives of these traditional people of Gujarat, the Kutchis. Communities had to completely shift away from their roots, when the quake wiped out entire villages from the map of India, bringing unalterable change to a centuries-old lifestyle in this once quiet and agricultural area of Gujarat.
Says Razzaq, "My wife got crushed under the debris, leaving behind five children. My youngest son was five months old. It took three hours to take out my only daughter from under the debris.
"Now I have a wisdom which I didn't have before earthquake. (I know) who is our own. How important money is in life. (I know) what self-interest is. I know who will come to my rescue in my critical hours. And who will not. I have received the experience of a lifetime, which no books could have taught me. We, the Kutchis are different people now."
The landscape of Kutch has donned a spankingly new look. Its skyline has changed entirely. New schools, new bazaars, new homes, new relocation sites, new police stations, new revenue offices, new courts and new roads have come up. The resettlement patterns have created nuclear families, bringing in dramatic changes in people's lives socially.
If my daughter is dead let me look for my wife
Murtaza Ali, a child who escaped death by a miracle, but lost 11 members of his family, including his parents, lives in a new home in a new locality. He now goes to St Xavier's School in Bhuj. His family was crushed under debris but 10-month old Murtaza was pulled out feeble, but still alive, 72 hours after the quake, a wonder which prompted people to name him Lucky Ali. He is a happy child, who is being brought up by his father's sister. He calls her mom.
"History has been created in Kutch over the last five years. The industrialisation (which could not be brought into Kutch) in decades, has taken shape in just five years," says Kirti Khatri, editor of Kutch Mitra, a local newspaper.
According to government estimates, Rs 200 billion has been spent in building a New Kutch. The area has attracted investment of Rs 140 billion because of the tax concessions that were made available as an incentive to investors.
How Prakash was brought to life
"Kutch has set a new trend in terms of investment, infrastructure and development," says Amit Shah, minister of state at Gujarat's home ministry. "There are no parallels (when it comes) to rehabilitation of Kutch. Kutchi resilience has made the amazing difference in the recovery of Kutch," he says.
Says Ashok Bhatt, minister for law in the Gujarat government, who handled the region's rehabilitation work for a time, "Five thousand engineers were sent to the villages and towns to supervise the reconstruction of homes. This was a people-driven movement. People participation is the biggest achievement of Kutch."
But Kutch has seen both successes and failures in the last five years. Rapid industrialisation and the sudden thrust towards development has brought its own expected fall-out, which the government has not been diligent in rectifying.
For instance, Kutchis now know that the government in Gandhinagar feels it has done enough work in Kutch and is no longer actively interested in rebuilding Kutch any further. Kutch is off the radar of political leaders of Gujarat, explains Mahim Pandhi, a senior journalist in Bhuj.
There is now reckless use of water by the new industry. This is depleting Kutch's underground water tables to crisis levels.
There is now a new crowd of urban poor, who are likely to create slums in the coming decade. Migrant labour keeps is coming in and rural people are looking for jobs in towns and cities.
Kutchis are economically and culturally uncomfortable with the huge inflow of labour from other states into their heartland. Kutch was not an easy area to penetrate even for the British. But this earthquake has brought Kutch into the mainstream of India.
Industries like chemicals, pharmaceuticals, steel, electronics and edible oil have been established here and have attracted an inflow of labour. But that in turn has created discontent among local people who are not finding enough jobs in the industries that have developed in Kutch on cheaply available land and utilising the attractive tax concessions.
Another uncomfortable fact of life in this new land: corruption. It is difficult to find a Kutchi who has not faced corruption in some form in last five years. Illegal commissions to speed up processes shadow everything from home subsidies to business loans.
Says Pandhi, "Kutchis have paid price for the fast-track development. At every stage people have paid government officers to get things done. Corruption has crudely contributed in the success of the rehabilitation."
It is alleged that corruption is practically the hallmark of the development and rehabilitation work in Kutch. The government, it is said, has shown bias towards bigger industries and towards people who hold large chunks of land. Town planning maps have changed innumerably to keep the land of property developers safe, it is alleged.
According to a study by Socialist Unity Centre of India, an Ahmedabad-based organisation that focuses on social issues, the rehabilitation work is incomplete. In Bhuj around 8,000 people are living in temporary shelters.
And Bhachau had a large population of people living in rented homes. Though amendments were made in the rent act in 2001, around 90 per cent of the families who were living in rented homes before the earthquake, are still making do with temporary shelters.
'Ninety per cent of Kutch was homeless' 
The study says that the town planning of Rapar, Bhachau and Bhuj got delayed and is turning into a "man-made earthquake". Rapar town planning is practically shelved by the government due to a lack of funds, while Bhuj's and Bhachau's town planning is facing severe bureaucratic hurdles. Some of the new areas that have come up post-quake are not even included within the municipal limits. Responsibility for who will provide water and electricity supply is not decided at many places.
Former prime minister Atal Bihari Vajpayee had initiated a hospital project worth Rs.1.2 billion. The hospital has been built. But there are not enough patients who can pay for treatment involving more advanced medical diagnosis. It is proving to be a waste of infrastructure investment and the funds could have been more usefully put towards the more direly required health centres and dispensaries at village and town level. Instead poor people, who are not 'below the poverty line', but are nevertheless poor, have no access to free medical treatment in government hospitals in Bhuj.
In spite of new problems and challenges that have emerged, one cannot dispute the fact that Kutch rehabilitation and reconstruction is a success story because of the sheer magnitude of work done around here.
Sushma Iyengar, a well-recognised activist in this area of Gujarat, who works with Kutch Nav Nirman Abhiyan, awards, on scale of 10, eight marks for the development work done in Kutch after the earthquake.
The government's policy framework remained on track throughout these five years is her view. It was a flexible policy which got corrected, when required, to match the local populace's needs. She points out that a people-driven movement to rebuild Kutch made the whole effort outstanding.
"Industrialisation is an off-shoot of the earthquake and is the major area of concern. We are still not being able to create a dialogue within our society (on how to accommodate) industrialisation while retaining traditional livelihoods. One doesn't have to happen at cost of the other," adds Iyengar
She says, "In Kutch (we) should think of creative solutions. We need to debate how water is going to be provided to industry. We have destroyed our mangroves belt, which will have a long-term impact. We need a cess or a special fund to manage the effects of industrialisation."
All kinds of opportunities are opening up in the New Kutch. For the first time, Kutch is looking at attracting tourists. Says Iyengar, "We don't want it to go the Goa and Rajasthan way. We can define it in a way, where the Tajs and the Oberois won't earn out of it, but communities will control it and they will earn out of it.
"In the last five years I have (noticed) that everybody seems to know (of) Kutch. (Whether it is) in Kashmir or in Indonesia, people look at Kutch with respect," reflects Iyengar.
Photograph: Yogen Khatri
Caption: A re-built Bhuj in Kutch