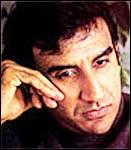 Milan Luthria is a director who claims he does not repeat the genre he works on. With films like Chori Chori, Deewar and Kacche Dhaage behind him, he's back with a film about a taxi in Mumbai, shot mostly on location on the city's streets. We asked him to elaborate...
How did the idea of Taxi 9 2 11 come to you?
We were keen on doing a high concept film, as we were going in without a huge star cast. We wanted to start with something that would break the clutter. I was keen on doing a film against the clock, and on the streets. So I picked up a story spread across 24 hours in the lives of two strangers. We also wanted to work with contrasts, so we took two opposites in the film industry – John Abraham and Nana Patekar.
Music Review: Taxi No 9 2 11 lacks attitude!
| | |
| --- | --- |
| | More on rediff.com! |
| | |
Why the name Taxi No 9 2 11?
We didn't name it. Our external poster design team suggested the idea of a number plate. They came to us with a design that worked. It goes well with the story where both men keep giving each other a miss. People are intrigued by the title as it adds a touch of humour and adventure to the film. They haven't come across a title like this in a long time.
How would you define the genre of the film?
I can't define it. It's a dialogue-based witty comedy, with some romance. It is also an emotional thriller that makes one think. It forces one to look within, find the meaning of life, find answers to one's own questions. It is also about the city of dreams -- Mumbai, and the rush. A very funny, clever film. As for classifying it, I'd leave that to the critics.
John and Nana's Taxi 9 2 11
Were there production hassles and crowd situations when it came to shooting on the streets?
45 days is all it took to complete shooting. We had our share of hassles. To begin with, there was heavy rainfall. We started in June. Then came 26/7. Luckily for us, the actors were doing just this film at the time, so they were able to accommodate us. As we were shooting a major portion on the streets of Mumbai, we required permission from the BMC, the police, traffic police and the crime branch, among others. Nana helped us a bit with that.
Crowd situations were a bit difficult to handle. We didn't want to shoot in a studio as it wouldn't give the movie an authentic Mumbai feel. We have scenes where Nana and John are running on the streets. There is one scene where we had to shoot an accident outside Mithibai college, at a Mumbai suburb. The girls outside the college went berserk after seeing John there.  
Nana Patekar also has a huge fan following in Mumbai. People would come in hordes to see him. It was a bit tough to manage the crowds, but Ramesh Sippy's veteran production crew handled it well.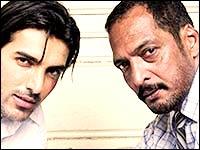 What was directing Nana Patekar like?
Initially, it was tough. I didn't know what to expect. People had told me so many stories about him. We did have a little bit of friction in the beginning but, gradually, the ice broke. Once, we did disagree about a creative matter. We had a bit of a showdown, but work continued and we left for the day. When I got home about 12:30 pm, Nana called and said, "Come and have dinner with me!" That's his style. I met him the next day and we had some nice moments together.
He has retained his identity for 35 years, which says a lot. I think I found a friend in him. I think I am equally eccentric, so we get along quite well.
What is it about John that made you cast him? Did it work?
With John, the biggest problem is the women. There were some 5000 women following him during the shoot.
I liked his work right from his first film. I think he has a lot of depth as an actor – a great combination of a great body and a vulnerable face. Everything about him is endearing. You cannot not like him. He has a very attractive personality. He may not be the biggest star in the country today, but he is on his way there. I found him unconventional enough to stand out, his hairstyle or the clothes he wears, his bike or the kind of person he is. Without any backing in the film industry, this young model has come a long way and ensured that people here take models seriously. He is very patient, calm and jovial.
Jai, his character in the film, could not have been better portrayed by anyone else.
What were the dancing sessions like?
Sameera is an Odissi dancer and is quite a sport. She is terrific with dance steps and picks them up quickly. John, on the other hand, has about 25 left feet. We all had a good laugh at his expense during the dance sequences as he couldn't keep up with Sameera. He took it in good spirit though. They hit it off very well from day one. Their chemistry on screen is quite interesting. They have been paired together for the first time.
In the song Meter Down, we have a new dance sensation after Madhuri and Aishwarya in Dole Re. Neither John nor Nana can dance. The song is an abstract look at the same story. It's a look at the relationship between these two men who keep coming in each other's way and outdoing one another. There are a lot of costumes and looks created for the song, and Nana Patekar will be seen in a different avatar.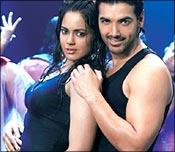 The movie appears to revolve around men. What do the women do?
As there is a lot of friction among the men, their relationship also start falling apart. Sameera, John's girl friend in the movie and Sonali Kulkarni, Nana's wife, are the pillars of strength. They hold their crumbling world and nerves together.
Does the final product excite you or make your nervous?
My family and friends, who have been my harshest critics, are thrilled with the outcome. For me too, the final product was a surprise. I wasn't expecting what I got. It opens up in a way, which is unexpected, and surprises you with its humour, its story, and music. It's a fast paced two-hour film, with something happening every two minutes. It will be the surprise package of the year.
What do you plan to do next?
I don't intend to repeat myself as far as possible in the genre I direct. I am planning a funny love story next. After that is an action adventure which will be very rugged. I always feel the need to change track. If I find the material to do something like Saaransh or Arth, it will feature in my repertoire soon.