Tennis ace Leander Paes looks back on his most memorable individual triumph -- the bronze medal at the 1996 Atlanta Olympics -- in conversation with Bikash Mohapatra.
Fourteen years is a long time in tennis.
A lot can happen during that period. The balance of power can undergo a complete shift, with a new order replacing the existing one; the playing pattern definitely evolves, technological advances are all the more palpable and change remains the lone constant.
In such a scenario a player's achievements become memories of a distant past. The records remain per se, but are covered by the sands of time.
Not only do his fans have trouble recollecting what their favourite star achieved 14 years back, but also the player himself finds it difficult to remember how he sealed his moment of glory, let alone the vivid details.
Leander Paes is an aberration though.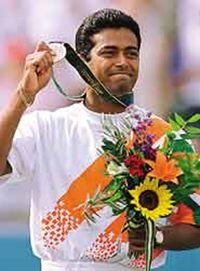 In Chennai to participate in the Davis Cup World Group play-off against Brazil, the veteran, who has many famous wins to his credit, was asked to recount, arguably, his most memorable Brazilian conquest.
The question pertained to his famous 3-6, 6-2, 6-4 win over Fernando Meligeni in the third-place play-off in the 1996 Atlanta Olympics, a win that earned India an elusive individual medal at the flagship event: Leander's win in the said match made him the first Indian to win an individual medal since Kashaba Jadhav won a wrestling bronze at the 1952 Helsinki Olympics.
And his answer was, well read on…
"Yes, of course," he said, adding, "I remember every moment of that Olympics."
There was a brief interruption, Paes obliging a few autograph hunters. But soon the 37-year-old was back and offered a detailed explanation -- something that was more of a story of a Brazilian defeat that ensured a new chapter in the history of Indian sport.
"To answer your question, I would say there were basically three reasons that made that bronze medal special," Leander told rediff.com, before going on to elaborate on the first of them -- one that brought the patriotic aspect in him to the fore.
"Firstly, it was the fact that it was the Olympic Games, the magnitude of the occasion mattered the most," he continued, adding, "My father had been a bronze medal winner [in the 1972 Munich Games as part of the Indian hockey team] and I had always dreamt of emulating his achievement."
The second reason brought to the fore his strong resolve and fortitude.
"Secondly, the fact I had injured my wrist during the semi-final against Andre Agassi [a match he lost 7-6, 6-3] and at one point was on the verge of pulling out of the bronze medal play-off," explained Leander.
"I somehow managed to play that match eventually," he added.
The third and final reason brought to the fore his resilience and never-say-die attitude that has since become the hallmark of his game.
"Lastly, the fact that I was a set down in that match," recounted Leander, adding, "And almost down a break in the second set.
"I managed to pull things back thereafter and went on to win the match."
The victory was a significant one to say the least, considering the fact that Leander's pro career was still a fledgling one and Meligeni was a player in form.
And it ensured India something that had eluded the country for a whopping 44 years: an individual Olympic medal.
No wonder it generated mass hysteria in a nation starved of sporting achievements and marked a personal triumph for Leander.  
"At that point, it meant the world to me," he said, getting a tad nostalgic. "It still does," he added.
And, as he looked at his achievement in hindsight, there was a sense of pride in his eyes.
"Representing the country is the biggest high I could ever experience," he explained.
"As a kid, I always wanted to be an Olympian and play for my country.
"I am happy that I was able to achieve that… and more."