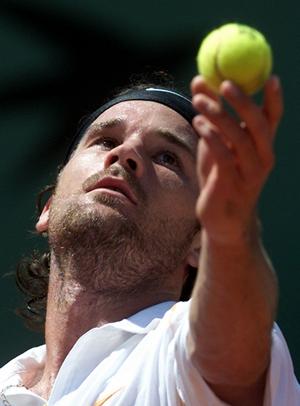 It would be a tough decision to make for sure. After all, he has been playing on the tour for the last 16 years now.  But it would certainly be a pragmatic one.
Carlos Moya played only in the first two months last year, a spate of injuries keeping him out of action in the next 10. His return to the ATP Tour was at the ongoing Chennai Open -- it wasn't difficult to secure a wild card as a two-time former champion and a fan favourite.
However, it was the manner in which he capitulated in the singles -- against Janko Tipsarevic -- or for that matter in the doubles, a far cry from the days of yore, that raised questions about an imminent retirement.
And considering he's 33, and not getting any younger, one would have expected an affirmative answer.
It wasn't.
"It's hard to say now," said Moya. "I can't decide that after just one match in 10 months. It might be my last year on the tour, it maybe not.
"But I feel I can still play," added the Spaniard.  
Tennis history is replete with examples of players who carried on with their careers without doing anything significant.
Swede Stefan Edberg called it quits in 1996, but his contemporary, Boris Becker, carried on. The German played on the circuit for three more years without adding anything to his resume of results.
Similarly, most of Moya's countrymen, who also happened to start their respective careers alongside him -- players like Albert Costa, Alex Corretja and Felix Mantilla -- have long retired. A few have taken to coaching as well. But Moya's career has lasted longer.
And he was always among the results till the injury last year.
"Few months ago I was to undergo my second surgery because the first didn't go well," explained the former French Open champion. "But I decided against it and the decision worked."
Was it difficult to motivate himself to come back to the courts?
"It wasn't hard at all to motivate myself," said Moya. "I just love the game and there is nothing that would make me more happy than coming back to the court."
Having said that, the 33-year-old Spaniard went on to elaborate on his answer.
"It's been hard in terms of recovery and I had tough moments in the last 10 moths," he explained. "Since I was preparing for a second successive surgery, I was mentally prepared that this might be the end of my career.
"But I kept practising hard and am back in the courts again."
Has he ever contemplated life after tennis?
"I will always feel like a tennis player, in my mind, but of course things get to an end," said Moya. "And probably I will take some time off before deciding on what to do next.
"I have been on the tour for 16 years in a row and when you are on tour, you hardly get time to relax and think about other things."
And what does he have to say about his love affair with Chennai -- it is not possible to have the Chennai Open sans Carlos Moya, they say.  
"I feel happy to be here," admitted the Spaniard. "They gave me so much support that I can never forget them and I would like to give back to a tournament that has been so special to me.
"I don't want to sound as if I am retiring. However, I do know that it could also be my last year," added Moya.