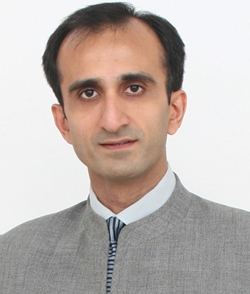 Advocate and sports enthusiast Rahul Mehra grabbed headlines when he locked horns with the Board of Control for Cricket in India in 2000 by filing a Public Interest Litigation against the body, questioning its right to be so secretive about its affairs.
After four years of legal battle, he won against the cash-rich cricket-regulating body.
Last December he filed another PIL against other sports regulatory bodies, like the Sports Authority of India, Netaji Subhash National Institute of Sports, the Indian Olympic Association and others asking to limit the tenure of its administrators.
In an exclusive interview with Special Correspondent Sahim Mohammed Salim, Mehra talks about how holding the Commonwealth Games is unnecessary expenditure and Delhi's preparation for the October 3 to 14 extravaganza.
Do you think Delhi will be ready to host the Commonwealth Games?
Absolutely! All things said and done, we are Indians; we do things only at the last minute. For the Games, there are a lot of departments functioning at the same time. There is lack of co-ordination with each other. However, come third of October, they will get their acts together and Delhi will be decorated like a bride.
What do you, as a sports enthusiast, think of the facilities offered in Delhi?
There are two distinct things we have to look at here: one is infrastructure facility and the other is sporting facilities.
Has enough been done for players to be comfortable? We have to ask this, because we are talking about the infrastructure in the Commonwealth Games.
With the same degree of confidence, can we say that we have given the best possible facilities, equipment, training and coaches to our players? The answer is clear no.
We haven't done anything to really carry out any investigations to find out the answer. Ask any player. They haven't got their funds released by the government yet.
It's a clear case of misplaced priorities, as our priority is to keep a select few happy.
And these are the same people who later talk about India pride.
Diver Priyanka Banerjee got injured at the newly-inaugurated Shyama Prasad Mukherjee swimming complex. It is still early days, but does it raise serious issues of safety at the venues? Are organisers overlooking safety of the players?
The organisers are against time. They are hurrying things up in such a manner that they are overlooking a lot of things. We have seen a stadium roof come off; we have seen how half an hour of rain created seepages.
What do these things show? They are running against time and trying to create a cosmetically right infrastructure by ignoring the basics. God forbid, what if a stand collapses in one of the stadiums? Who is going to take responsibility?
I tell you, there will be endless passing of the buck. The Indian Olympics Association will say it was not their responsibility and that they had been given the stadiums at the last minute. Government is going to say that a professional body undertook the preparations. This body will also feign ignorance and say that the government knew what materials they were using.
When former Sports Minister Mani Shankar Aiyar says that the amount of money spent for Games could have been better used to train young athletes for international sporting events, is he right?
I have never met Mani Shankar Aiyar, but I have the highest respect for the man for one reason. He created a document (Comprehensive National Sports Policy) which nobody ventured to do. If it is used as a Bible in Indian sports, then ten years from now, Indian sports will be a sports superpower of the world.
He is absolutely right when he says the amount spent on Commonwealth Games could have been used for better purposes. What will we do with all these stadiums after the two-week event?
The next major event to be held in India is going to be the Asian Games in 2019. For nine years, these stadiums are going to be rot. After the ninth year, another 1000 crores will be invested for the renovation of stadiums. It is shocking. Pump in all this money where it is required the most. We should put the 50,000 crores into our villages, not in a city like Delhi. We are harassed by the Commonwealth Games, right from the head of the state, as if we have invited some certifiers to actually certify our country.
When it comes to taking money, they (organisers) will take Rs 1733 crores from the government and then they will ask the government to pump in more money for infrastructure development.
And then when the government asks them to be transparent and accountable to them, they say they are a private autonomous body and they can't tolerate interference. All this for a shady Games like the Commonwealth. World champions are anyway not coming to the event.
Nobody at this point should try to stop the Games. We should play it and we should play well. Not because the world is watching, but for ourselves. But when the Games end, the government should tell the IOA that they have nothing to do with the Asian Games.
They should clearly say, you have made the bid for the Asian Games without consulting us. If you win the bid, we are not going to create the infrastructure for you. We will not spend a penny of public money.
It should go for proper infrastructure facilities, which can be used to nurture young talent. And then when we breed champions, let us hold these international events after say, 10-15 years. See, Saina [Nehwal], [Sachin] Tendulkar and others did not happen because of the system, but despite it.
You ask Abhinav Bindra, he will say, NRAI (National Rifle Association of India) has done nothing for me. All these bodies (National Sports Federations) have done nothing for their sport. They have vested interests because sports today have money.
We have respective sport organisations, but the only organisation that comes to mind is the BCCI or maybe Hockey India. Will hosting of the Games in Delhi make any difference to the popularity of these other organisations?
Nothing of that sort is going to happen. How is a ten-day event going to impact the other sports? The Games are being held in Delhi, how is it going to affect players and sports from other states? How are they going to get the facilities?
Do you think India will bring home some medals?
Surely! But not because of their federations or the IOA. They will bring the medals despite the apathy, lack of accountability and the sexual harassments of these bodies. These bodies are not going to help them bring the medals. If, at the end of it, someone like Abhinav Bindra brings some medals, he will be talked about in a derogatory manner by the president of the very body which is supposed to regulate and coach his game.
When you filed a PIL against the present functioning of sports bodies, you took on a lot of politicians. Did you consider this at the time of filing the PIL?
My fight was never against the politicians. In fact, given an opportunity, I would like to be in politics, because it gives you a chance to impact policy changes. My fight was against the way in which sports is being administered. In this fight, most of them happened to be politicians.
So, when I took on these bodies, I took on the people who had been running these bodies for so many years now. It is just a coincidence. My fight is to make these bodies professional. These politicians should not be the ones to call the shots. Ex-players or professionals who know what they are doing should. The politicians, as heads of these bodies, should assist them with infrastructure and administration.
In your PIL, you have asked to limit the tenures of sports federation heads to no more than 12 years. But what if the head is democratically elected and what if he is doing a good job? The recalling of the 1975 law will limit the scope of these heads, don't you think?
It is good when they are democratically elected. All these bodies have been in existence for a long time. When formed, India was different and people did not care much for sports. Today, we do. The entire electorate still has the same people who used to be in power back then. And they filled up the bodies with their own people, who had nothing to do with the sport.
Can you defeat such an individual who has the support of the electorate he built? So my fight is to change the electorate. You need to have efficient professionals in these bodies.
Now let me give you a legal reasoning. In 1999, the International Olympic Committee (IOC) revised its charter. Clause 3.3 talks about limiting the age of the President, Vice-President and 10 members of the IOC to the age of 70. If your parent body has such rules, then is IOA bigger than them? Clause 29.1, 29.2 and 29.3 of the charter talks about limiting the tenure of the Vice-President and ten members to a maximum of eight years. Clause 30.1 limits the tenure of the President for a maximum of 12 years. The final clause of IOC charter says that in case there is a variance from the IOC charter and a particular NSF, then IOC charter shall prevail.
On the contrary, the IOA says that they will be banned from participating in international events. No. Read the IOC charter.
What all aspects should a sports law, if introduced, look at?
It should cover how NSFs function. It should see how a particular NSF is using grants and other financial support. It should cover various issues like doping etc. It should make sure that the NSF functions in an accountable and transparent manner. It should give the government the power to only regulate these bodies. There should be a grievances redressal system. Today, IOA takes care of this, but we have seen that is a highly inefficient organisation.