Indian sport has found a new superstar. Saina Nehwal is the toast of the nation since winning the Indonesian Open and becoming the first Indian to win a Super Series badminton event.
The nineteen-year-old's rise in the world of badminton over the last 12 months is phenomenal. She was named the world's most promising junior in 2008 and after some top-notch performances this year is perched sixth in the world rankings.
Saina, who is the only Indian to reach the singles quarter-finals at the Olympics, is also the first Indian to win the World Junior badminton championships.
What was special about Saina's Indonesian Open triumph was that she stunned two top Chinese players en route to the title.
The queen of Indian badminton spoke with Chief Correspondent Harish Kotian in Mumbai, where she was felicitated by Badminton 45 and Bombay Gymkhana for her recent accomplishments.
You created history by winning the Indonesian Open and becoming the first Indian to win a Super Series event. How long did it take for the feeling to sink in?
I still can't believe that I won the tournament.
I am the first Indian to win the Philippines Open, first Indian to win the Chinese Taipei Open, first Indian to reach the quarter-finals at the Olympics, so I am getting used to all these records of the being first Indian girl to achieve various milestones.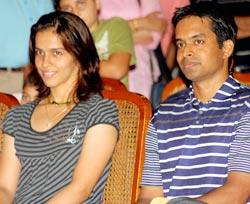 It is tough to believe you achieved so much, but it is all because of the hard work I have put. I have played all these top players quite a few times and now I know how they play, so it is easier for me to beat them. But when you are playing a match, where the conditions are tough, you have to control the shuttle drift; so at that time it is tough to play and you have to be cool. If you take unnecessary tension, then the game starts slipping out of your hand, and it is just 21 points.
Now I am more experienced and confident; this win was really good for me and came at the exact time, just before the World Championships. Right now, it will be easier for me to work hard and prepare for the World Championships in Hyderabad.
In the Beijing Olympics you were leading 11-5 in the deciding set but ended up losing it. But in the final of the Indonesian Open, you were trailing 0-7 but staged a strong comeback to win the match and title. Did that Beijing experience help you in this match?
Yes, that experienced really helped me a lot. I could have even won that Olympics quarter-final match, but my mind went just blank. I got overexcited, because Olympic gold is my dream and I was so close to it. I was already thinking of playing the semi-finals once I took that big lead; but things changed fast, and it turned out to be a bad day for me.
I could not sleep for the next few days after that match. I kept it in my mind that my aim is to win an Olympic gold. Even if I don't win, it will still be my dream and whatever other matches that I win, that will also be important for me.
The upcoming World Championships are in Hyderabad, next month. How excited are you at getting the chance to perform in front of home fans?
I am very excited. It is a big tournament in Hyderabad and I will be more than happy to see people around me and supporting me. Even in Indonesia, so many Indonesians were cheering for me along with the Indian fans; it was a great feeling for me. I am waiting for the tournament to start and I want to see how much support I get and how many fans I have. I will work hard and hope to do well in the tournament.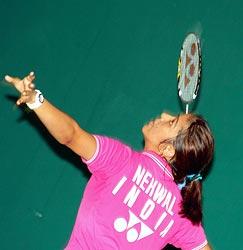 Your mentor and coach Pullela Gopichand said your improved fitness played a key role in the Indonesian Open triumph. Can you give us details on your fitness regimen?
It is more of on-court training and off-court training, because you have to mix up both the things. It is not that you will only train for nine hours on the court but you also need to have proper fitness training -- like proper weight training, proper running and different kinds of training. We do the on-court training in the morning for around four hours and it is very important to improve your strokes.
You are being compared to the likes of Gopichand and Prakash Padukone. How does it feel to be spoken of in the same breath as them?
They are both legends. I feel great when I am compared to them, but I am just a kid in front of them. This is just the start of my career and there is a long way to go. But I feel really great being compared to them.
Have you ever trained abroad or in countries like Indonesia where badminton training is supposed to be top class?
I have not trained anywhere abroad. I don't believe that when you train abroad you can win matches. But I believe that wherever you are, you just have to put in more hard work, put more focus and listen to what your coaches say. You can win if you train any way you want, it is not that only if you train abroad you can win matches. You can improve anywhere and the results are out there to see. I hope people will now have to believe that you can win if you train anywhere in the world.