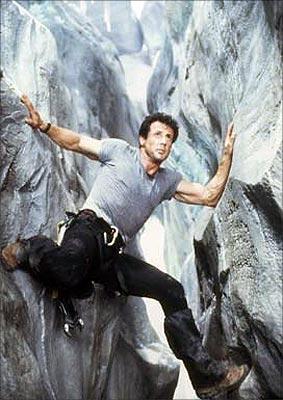 The name is Sylvester Stallone, and the 61-year-old actor seems to now be specialising in bringing back extinct characters.
The revival kicked off with the terrific Rocky Balboa, as Stallone wrote and directed a powerful and gripping finale that rescued and revitalised the boxing movie franchise.
Clearly not content resting on his laurels, Sly followed this up with the recent John Rambo, taking the Vietnam vet character to Burma.
The second film might not have been as much of a success, but has ensured Stallone enough visibility to be branded a star act again.
And while there has been much Internet speculation about a return of Cobra, now word comes in that Sly's character from the 1993 film Cliffhanger, Gabe Walker, (left) will return to the screens in a Sony production, The Dam.
Special: The Sylvester Stallone Top 10
And that's not all: there are talks to bring back both the boxer and the war veteran yet again. Clearly Stallone -- who is currently working on his Edgar Allan Poe biopic with Viggo Mortensen in the lead role -- isn't getting tired anytime soon.