Umtiti headed in the winner just after the break
July 11, 2018 01:29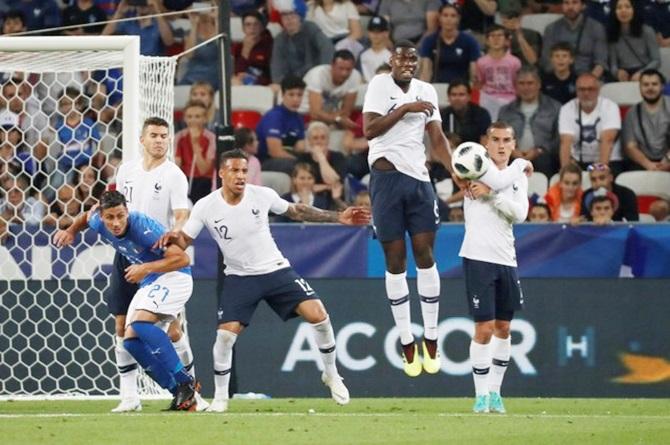 The final whistle goes off.
France beat Belgium 1-0 after Samuel Umtiti's winner as the Belgians were denied by some stoic defending by the Frenchman.
Belgium's No 9 Lukaku was kept at bay throughout the match and though Hazard and De Bruyne worked hard to create, they lacked the finishing in the end.
France look for a late double.
Pogba slips it in to Tolisso, who is denied by Courtois.
Belgium still looking for a late equaliser but De Bruyne's cross is headed by the French defence.
6 minutes of added time as Belgium stare down the barrel.
Mbappe gets a yellow for being cheeky.
Greizmann fires in a late shot but Courtois does well to save.
De Bruyne takes the free-kick but to no avail. It gets booted away, De Bruyne sends in a lovely pass towards Lukaku, who was not in the range.
Kante booked for bringing down Hazard.
Lloris blocks a superb Witsel effort as Carassco comes in for Fellaini.
The French fans are dancing in the stadium as victory looks imminent.
Belgium attack on the counter as Hazard cuts through defenders but is brought down by Giroud, Play on says the ref.
De Bruyne then overcooks a shot on goal as they try to look for the equaliser.
The ginger-haired medio has now made the third mis-pass.
Free-kick for France, taken by Greizmann and Pogba heads it over.
Witsel fouls Griezmann.
Mertens now delivering quality crosses but Belgium just not getting the ball into the target.
Anderwerield gets a yellow now for a foul on Matuidi.
« Back to LIVE
TOP STORIES