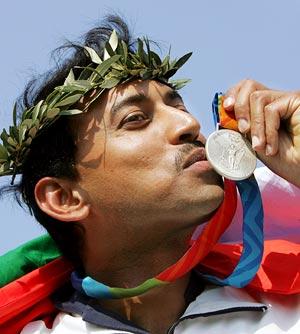 Ace shooter Rajyavardhan Singh Rathore slams the new selection policy for Indian shooters.
I think, as sportsmen, we all go through the adversities created by our sports officials some time or the other.
Basically -- our previous selection policy was -- selection trials are held for competitions in the forthcoming two months calendar (and if someone has won a medal in the immediate past or had an exceptional performance then he is excused form trials, if he so desires with permission of the federation)
Hence, after taking 2009 off, I planned to start training by January 2010 and be in form by June 2010 for the World Shooting Championships (WSC) 2010.
However, in March 2010, we got stumped by the federation when they announced a new selection policy. The new policy was to follow a system of adding up all scores shot by shooters and averaging them out. The highest aggregate gets selected.
The problems:
1. The policy was implemented in March 2010 but scores were retrospectively taken from previous months, like February 2010... giving rise to prejudice and bias.
2. Scores shot by Indian shooters abroad in different (mostly better) conditions were to be compared to scores shot in humid, hot and windy conditions prevailing in the summer months in India.
3. Taken by surprise, since I was not in form in early 2010, I was left with a huge score deficit to catch up in the later selection trials (in Indian conditions).
4. Interestingly, the same policy was for Rifle and Pistol shooters too, but it was amended for them and not for Shot Gunners. So we had a situation: one federation but different selection policies. Again, revealing bias.
5. The whole atmosphere of vindictiveness, created by the sports administrators, did not leave me or some of the other shooters with a positive frame of mind to overcome the odds stacked up.
6.The policy laid down some grace marks for an Olympic/WSC medalist, but decided that the 2004 Olympics being in the distant past did not warrant grace marks (as if experience is limited by a four-year life cycle of each Olympics).
It's now interesting to hear the officials say that the matter was never brought to their notice; was it not, really!!!
I have tried to maintain as positive an attitude as is possible, even today as the news is breaking out on television and other media. I do believe there is a higher good for me despite these troubles. I know the strength of the Indian shooting team and hence am looking confidently at all those selected to win at the Commonwealth Games in Delhi. By all accounts, the shooters are only growing stronger.
For more on Rajyavardhan Singh Rathore, visit his blog (http://chillyrathore.blogspot.com/) or follow him on Twitter (http://twitter.com/Rajyavardhan_R).