Goodbye, pecking order.
The last time a Formula One team won on its debut was 32 years ago, in 1977. The team was called Wolf, and owner Walter Wolf took some aid from then-collaborator Frank Williams, and an engineer went over from Williams to work on the cars.
The young man's name was Ross Brawn, and he's today's Formula One superstar extraordinaire. With tremendous lyrical grace, his team this Sunday scored a phenomenal one-two on its very first race -- without breaking a sweat.
Not that he's new to the limelight, you understand. Widely considered the  finest racing strategist of all time, Brawn tasted successive-year championship glory with Michael Schumacher and Benetton in the mid 90s, an then joined the German at Ferrari where the two -- along with team principal Jean Todt -- created a scarlet age winning six back to back constructor's titles and carving out an era of dominance unprecedented in modern-day motorsport.
He had been working at the Honda team for a couple of years now, but the recession led the auto-manufacturer to pull out of F1.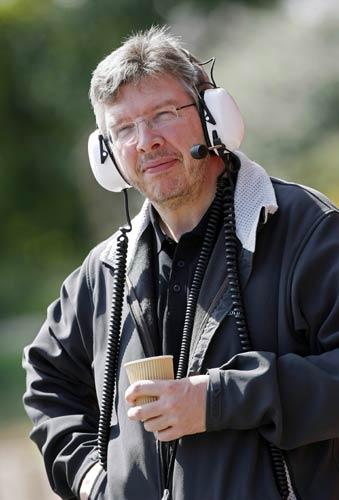 Brawn pleaded to let the team be, but Honda decided they would rather sell it.
No buyers loomed near, and for a while it looked like drivers Rubens Barrichello and Jenson Button -- who took a voluntary £5 million paycut to keep racing -- would be out of jobs, and F1 head honcho Bernie Ecclestone started saying top-rung teams would run three cars instead to make up for the lack of Honda.
With weeks to go before the season started, the magnificently wily Brawn engineered a full buy-out of the Honda team. He knew the car had what it takes; knew it so well he was willing to sign his name onto the team's livery. The timesheets went crazy through the last two weeks of testing, but it was only at Melbourne that we saw the force of Brawn, demolishing the rest of the field with efficient brutishness.
And now Formula One finds itself, at least momentarily, without status quo.
A Brawn GP car leads the field, a Red Bull car follows close, and a BMW pushes them both hard -- all this while the Ferraris and McLarens limp and pray, nowhere in the same league.
Wow.
The emergence of Brawn doesn't look like a flash-in-the-pan success, and could truly signal in an era of the aspirants, one where the hitherto mid-rung teams suddenly lead the race and, most importantly, an era where more than half the drivers on the grid can realistically challenge for race wins. Hold your breath, it's happening.
The emergence of the gloriously logo-less (not for long, surely) Brawn GP team has been like a tabby cat landing in the midst of F1's chubby pigeons.
There is complete disarray as the teams protest Brawn's diffuser, but my two cents are just that Ross has seen a technical loophole better and before anyone else, and he's exploiting it to the fullest.
Also, it cannot be enough emphasised that Brawn kickstarted work on this year's Honda as early as the beginning of last season, which is what has made the most massive difference.
Compare a year-long development cycle to, say, a team like McLaren too busy tweaking its 2008 challenger to the very last race to even start on development on its 09 charger before weeks past Lewis Hamilton's celebrations.
The fall out is obvious. No, we're not about the instant kneejerk reactions in the paddock, which will go from the frantic establishment of clearer rules on diffusers to the entire field me-tooing pretty much exactly the same diffuser Brawn has devised. Ha.
The true impact that Brawn will have on its competition -- especially if they take another win this Sunday at Malaysia -- is that they will throw in the towel early.
Teams like McLaren and Renault, more than a second behind the Brawn GP cars, are already making fatalistic statements about this season.
It is only likely that at least 2-3 top tier teams will emulate Ross' method and begin on the 2010 car right away, and try to use this season academically -- ie, collect data as they lose.
This is a masterstroke.
All Brawn has to do is turn up the heat in the opening few races, and watch the frustrated former frontrunners wistfully stare at their white-neon rear-wings, annoyed Ferrari drivers wishing scowling at the diffuser would crack it open.
That is really all they need to make this season theirs, and while it's admittedly far too early to talk about a season's worth of dominance right after one race, the performance differential -- and Brawn's strategic acumen -- cannot be discounted.
These debutants have the greatest championship winning chance since.. since Lewis Hamilton in 2007.
Then again, Ham lost that round so the old-money teams still have a hope.
Which brings me to a rather funny little coincidence. Following their disqualification in 2007, McLaren were listed lowest on the FIA classification in 2008. Their driver won last year.
This time, because Brawn are completely new entrants, they find themselves carrying the last two driver numbers. Are we likely to see another incredible last-to-first upset? (And will this trend be Force India's biggest hope?)
We've seen Ross Brawn on many a podium, most often as a scarlet-clad giant teddy bear whose arms Michael Schumacher would leap into with victorious glee.
Yet Formula One is a driver's sport, and there is only so much credit the car-makers, the thinkers can take. Especially behind a truly great driver.
This Sunday at Melbourne, Rubens Barrichello and Jenson Button -- drivers with largely underwhelming careers -- got off their podium and doused their boss in unison.
In my favourite moment of the day, Brawn used his trophy like a champagne shield as all of us rejoiced for the new team. Deservedly, Ross Brawn needs to be celebrated.
He might be a little taller than Vitalstatistix, but by Toutatis, he's sure brought the sky down on Formula One's head.